Say 'hello' to your cat's new favourite spot
Domestic cats are no different than their wild counterparts. Both love to be stretched out and sleeping soundly atop a high vantage point where they can confidently and securely observe their surroundings.
The Nymock Indoor Cat Hammock is purposefully engineered to mimic a cat's natural lounging environment, giving them the same comfort and confidence they enjoy in the wild, with all the luxuries and safety of being indoors.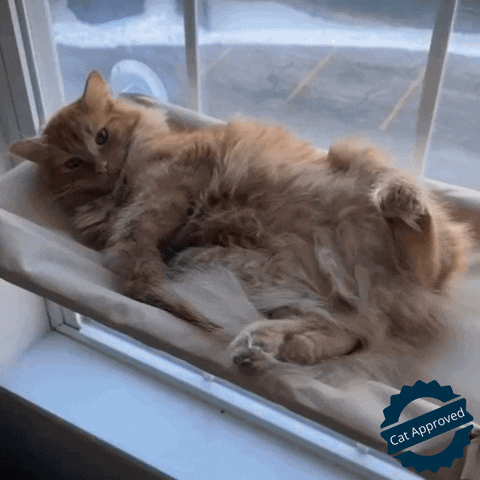 Why the Nymock?
A natural lounging environment - Cats love to be elevated and observe their surroundings from up above. This gives them a sense of security and can drastically reduce pet anxiety and increase pet confidence.
 Passively stimulate your pet - Other than sleep, cats require a sufficient amount of visual stimulation. With the Nymock, your cat will have a front row view of nature, which will passively engage their hunter ways and keep them occupied while you're busy!
Save space - Thanks to our sleek and minimalist design, the Nymock can help you save space and eliminate clutter by removing large cat furniture. This product is purr-fect for cat owners in condos or apartments or for homes who just need a bit more space.
Protect your walls - Unlike most DIY (do-it-yourself) cat shelves, the Nymock does not damage your walls and is easy to set up thanks to our industrial strength suction cups!
 Easy to Clean - Compared to other cat hammocks on the market, if your cat happens to have an accident on the Nymock, our removable nylon-based material is water resistant and machine washable, so you and your cat will be back in action in no time! 
Take Advantage of This Exclusive Deal
Right now we are offering a 40% discount on all orders UNTIL SUPPLIES LAST! This deal is not available anywhere else, so order now while we're back in stock!

Your Happiness is Our #1 Concern
If you or your pet are not 100% satisfied with our product, feel free to return or exchange the item within 30-days from your delivery date - no questions asked!
Note: Please be aware of low quality knock offs on other sites. We cannot assist you with these orders should problems arise.
FAQs
Unlike other cat hammocks on the market, our indoor cat perch can easily support up to 20kg (or 40lbs) of weight! Most of the time, the Nymock™ can easily support up to 2 cats but most of the time they do prefer to have their own