Over 11,605+ stunning decoration ideas world wide with our handmade vase.
A vase could make a big difference. It serves as dramatic focal posts and decorations for dining or buffet tables, mantles, altars, entryways, restrooms, and other locations.
Most vases are fully hand made with select clay by our artiest team. That's why we can control the cost for you. 
Worldwide free shipping by air.  There're no taxes or import fees. Most places could take 7-14 days to arrive. 
No worry about damage during shipping, as each item will be packaged separately with protection.  
 
Decoration Ideas
Simply display the vase on its own is beautiful.
Perfect for coffee table, dinner table, bookcase, shelves, kitchen, living room, office, entryways. etc.
Get more decoration ideas from our happy customers reviews below.


Wonderful Gift

Great gift idea! This minimalist style vase made with high quality white porcelain all can help you express your love.
Perfect gift for Birthday, Anniversary, New Year, Thanksgiving and Xmas. etc.

Dimension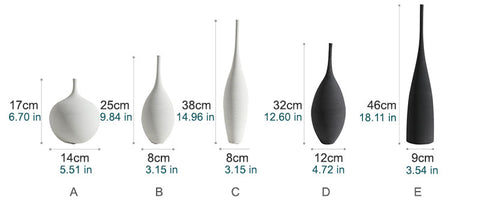 A
6.70 in*5.51 in
17cm*14cm
B

 

9.84 in*3.15 in

 

25cm*8cm
C
14.96 in*3.15 in

 

38cm*8cm
D
12.60 in*4.72 in
32cm*12cm
E
18.11 in*3.54 in

 

46cm*9cm
Hand Made with Select Clay
Fully hand made with selected clay. Every detail are through the hands of  the craft master. Each vase need takes 20+ processes and through high temperature to see its beauty.