Use automatic curling irons to save time and effort!
Effortless waves and curls are the goal of every girl. But not everyone is an expert or has time to go to the salon just to get curls. Well, our wish has been answered!
This automatic curling iron allows us to get a lot of curls in a few seconds! Moreover, no effort or any experience is required.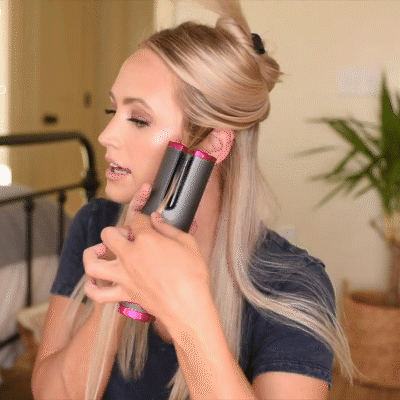 benefit
Wireless:  This wireless curling iron is easy to carry and can create beautiful curls with minimal effort. Say goodbye to cables and heavy hair straighteners and large hair straighteners or curling irons.
Instant and easy to use:

you can get perfect curls without practice. Just press a button, you can automatically curl and curl hair immediately, and watch the magic unfold in front of your eyes.
100% effective curls:

Not

good at

curling hair can lead to job

failure

-perm, messy curls or dry hair. Not using this curling iron! It is 100% effective and simple!
No

experience is required:

you don't have to make your sister or anyone else pay for it. You can do it easily in just a few minutes.
specification
Battery capacity: 2500mAh

Battery type: rechargeable lithium ion battery

Charging time: 3.5 hours

Use time: continuous use time is about 40 minutes, intermittent use time is about 1 hour. The running time will vary depending on the heat and timer settings.

Product size: 19x6cm/7.48x2.36''.

Color: white, rose gold, black
What is included
1 x automatic curling iron

1 x USB data cable

1 x comb

2 clips

1 x bag

1 x User Manual
100% satisfaction guaranteed
\