This cute black obsidian fox pendant is elegant, shining with light. Fox is a smart and alert animal, this fox pendant protects you from despicable person, ascends your temperament.
Symbolic meaning of fox pendant: fortune, luck, wisdom, beauty, intelligence, adaptability, and opportunity.
Gender: Unisex
Material: Natural Black Obsidian
Shape: Fox
Pendant Size: 3.5cm x 2.5cm/1.38" x 0.98"
People who like fox necklace often have a character of charm and confidence that win people over.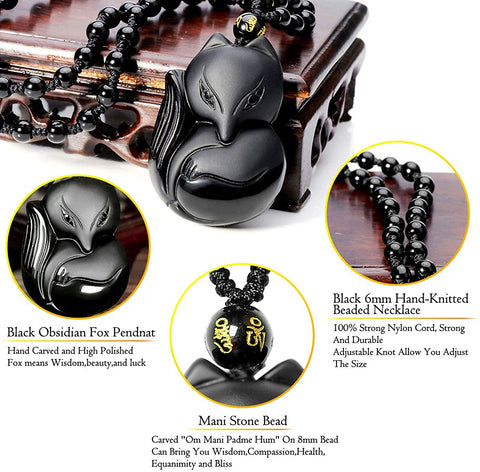 Obsidian is said to impels us to grow, help to remove negative energy blocks and keep your thoughts positive. Healers use it to relieve pain and improve circulation. When you wear this Fox Obsidian Necklace, it promotes happiness, health, good luck, and healing.
There is no doubt of the beauty of Fox Animal, and the "fox" is often used to describe attractive and creative ladies.